Hello there, beauties! Today's post is going to be all about HAIR. I'm not going to sit here and tell you that I am a hair expert. I went to two months of cosmetology school and it wasn't for me. However, I know what a good hair day looks and feels like for me, and I wanted to share with all of you how I've had a perfect hair day now using a brand that I am obsessed with!
I worked in cosmetic sales for years, so I'm always very skeptical of anything that promises perfection. I was contacted by a rep, Heather, who asked me if I wanted to try the products. I am all for trying before I buy, and I had nothing to lose, so I said sure. A week later, I was absolutely hooked. So hooked, that I decided to sell it myself.
If you would have told me that I would have been selling any product through direct sales, I would have laughed at you. It's never been my thing, and I have always been annoyed by the constant Facebook invites to online parties. However, it became very apparent to me that this was something that I knew my friends and family would benefit from, and that selling it just made sense. So what exactly is this brand, you ask? Monat!
What is Monat?
Monat is a science backed, natural haircare line that helps to promote the growth and overall health of your hair. They have a strong focus on family, love, community, gratitude, and culture, on top of being one of the top haircare brands in the industry. They have a wide range of products that fit every single hair type and problem.
Before and After Pictures
What hooked me on this brand were the before and after pictures. Never had I ever seen such dramatic before and afters. It made me excited to be able to take my own soon! I have some of my favorites for you to check out below!
My Go To Products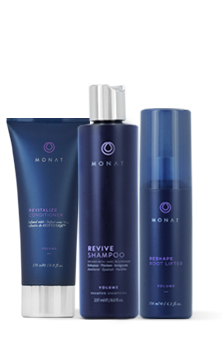 The Volume System comes with the Revive Shampoo, the Revitalize Conditioner, and the Reshape Root Lifter. I naturally have super voluminous hair, but I have been loving the bounce and shine that my hair has with this! Not only does my hair feel healthy and clean, but it has been so easy to style my hair.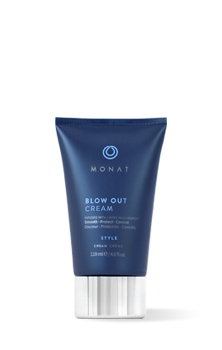 I've always had to use a blow out cream to smooth my frizzy hair before drying it. I have tried probably 20 different ones, and this one has been amazing! It smells great, and helps blow dry my hair so much quicker. For those of us with thick hair, you know the struggle. The blow out cream makes my hair manageable, while also giving it the perfect amount of shine and keeps my blow out fresh for days!
Refinish Control Hairspray-$44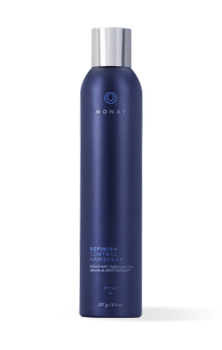 I have never been a huge hairspray fan, mainly because I felt like hairsprays made my hair sticky and stiff. When I first tried this one, I immediately noticed that it was completely different. Not only does my style last all day, but it doesn't make my hair feel like a helmet. I can still run my fingers through my hair throughout the day without ruining my hair! Added bonus, it smells INCREDIBLE.
I know, it's hard to justify spending almost $100 on a hair product, but hear me out! This stuff does more than just help your hair. It is infused in all but one product that we sell, and for good reason! I have been using it on my hair, my cuticles, and my face with noticeable results. I suffer from psoriasis, and get breakouts on my face. I have been using this oil on my face every single night, and have not had a single breakout! I'm seriously OBSESSED! If you're interested in all of the uses of this miracle oil, check out this post!
Pros and Cons For My Hair
I have experienced both pros and cons with Monat, but I can tell you with 100% certainty that the pros outweigh the cons, and the cons will eventually go away!
Pros:
Completely cured my psoriasis both on my face and scalp
Smoother hair
Faster styling time
Thicker hair
Noticeable growth
Just prettier hair in general!
30 day money back guarantee
Cons:
My hair was a little greasy the first time I used it–I don't have that problem anymore!
Period of "detox" where your hair is getting used to the product. This goes away after awhile, and is actually beneficial for your hair!
Interested in Purchasing?
This is my 100% honest and open review of Monat, and the product line! If you are interested in purchasing, please click here! I will get a commission from this, but that is not why I'm posting this blog. I truly am posting so you all can have the best hair day ever! If you have any questions, please feel free to message me. Let's help you have the perfect hair day!